Reliable contract glaziers for all your glass-related needs
Here at Jays C & C Glass, we supply and fit glass for a wide range of purposes – from mirrors and external windows to balustrades, splashbacks, Juliet balconies and internal glazing. We work with domestic and commercial clients alike to provide a full suite of glazing services, and deliver these on a bespoke basis, according to your individual needs and specification. Below, you can find the main glazing services we provide. If you cannot see the service you need, please get in touch anyway – as experts in all things glass, we're sure we can help.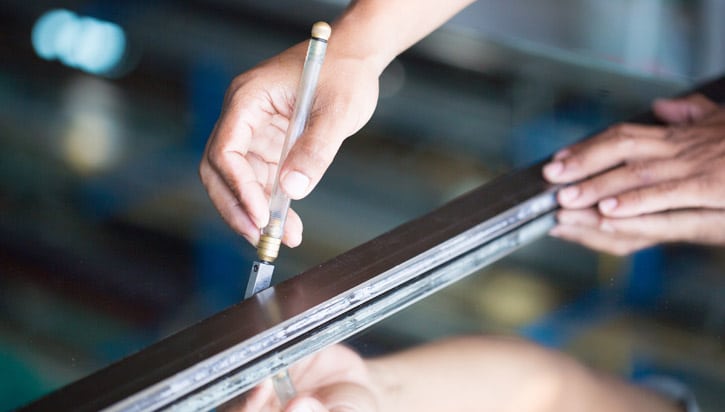 Glass cutting
We can cut glass to size for all sorts of uses – from bespoke furniture in your home (e.g. table tops, shelves, balustrades or splashbacks) to mirrors throughout a commercial building. You can trust us to do so accurately and expertly, getting the right fit every time.

Replacement double glazing and repairs
If one of your double-glazed windows has started to mist up, or your shop has been vandalised and the glass has been smashed, we can provide high-quality replacement double glazing to rectify the issue. If we can repair the glass rather than replacing it, we will.

Manifestations and frosted film
We regularly supply and fit manifestations and frosted film solutions in offices and commercial spaces. As well as being attractive, these glazing options allow for enhanced privacy (without stopping the flow of light) and extra safety (as everyone can see the glass).

Safety glass and solar glass
We can provide special types of glass to solve a wide range of problems. Our safety glass ensures that, if a window is smashed, sharp shards don't fly everywhere – protecting those that live or work in the building. Our solar glass reduces the amount of glare and heat from the sun that comes in through the window, creating a more comfortable environment.

Mirrors
We supply and fit mirrors for homes, commercial properties, schools, hospitals and more. These are cut to size, according to our clients' specification, and fitted with efficiency and expertise.

Juliet balconies
We provide glass for Juliet balconies of all sizes and configurations, whether you need one balcony for your home or a high volume of glass for a large-scale residential development.

Balustrades
Glass balustrades are an attractive option for homes, offices and commercial spaces because they effectively vanish, enabling you to highlight other aspects of your interior design. We supply and fit the glass for your balustrades, whether you want standard, safety, frosted or patterned glass.

Coloured splashbacks
Adding a coloured splashback to a kitchen is a great way to bring the room's interior design to life. As well as looking great, splashbacks are practical – enabling you to quickly wipe them clean. We are experts in providing attractive, cut-to-size splashbacks for our clients.